Going Viral: Episode 166
Description

↑ Click the blue camera icon to view images in full screen

 
Going Viral: ATAGI, Boosters, Myocarditis, Vaccinating 5-11-year-olds, Opening the Borders
In this episode:
 
– COVID Booster dose
– Myocarditis following mRNA vaccine
– Vaccinating 5-11-year-olds with Pfizer
– Best vaccine delivery method
– Opening the borders – don't forget there are many vaccine-preventable diseases (VPDs)
Host: Dr David Lim, GP and Medical Educator
 
Total time: 30 mins
 
Guest: A/Prof Nigel Crawford, Infectious Disease Specialist; Director, Surveillance of Adverse Events Following Vaccination In the Community (SAEFVIC), Murdoch Children's Research Institute; Head of Immunisation Services Royal Children's Hospital, Melbourne; Secondment Senior Medical Advisor, Victorian Department Health COVID19 vaccine safety team; Chair, Victorian Specialist Immunisation Services (VicSIS) network

Presentation Links:
– Third dose of COVID-19 vaccine recommended for people who are severely immunocompromised ATAGI Statement
– ATAGI recommendations on the use of a booster dose of COVID-19 vaccine
– ACIP Presentation Slides: November 2-3, 2021 Meeting
– ATAGI update following weekly COVID-19 meeting – 3 November 2021
– COVID-19 vaccination – Guidance on Myocarditis and Pericarditis after mRNA COVID-19 vaccines
– Should children be vaccinated against COVID-19? BMJ Journals
– Mobile vaccination bus joins Red Centre Nats festival of wheels
– Emergence of measles during the COVID-19 pandemic threatens Pakistan's children and the wider region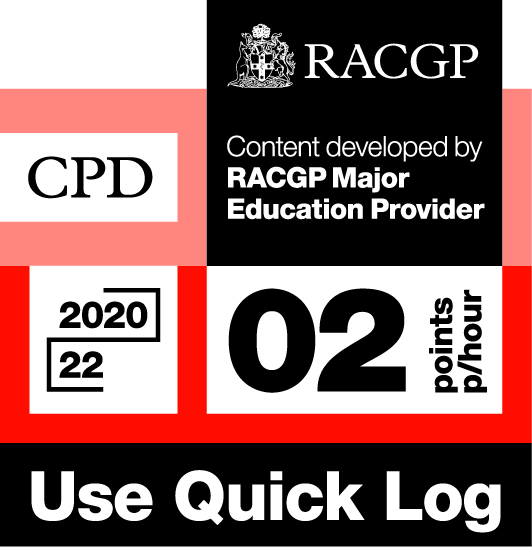 Log your own CPD by following these easy steps:
– Listen to 30 minutes of Healthed podcasts
– Click on the Quick Log logo and follow the link to the RACGP website
– Log in to your myCPD dashboard
– Click on the Quick Log function to log your points
– A 30 minute podcast earns 1 CPD point
Enjoy this content?
Each fortnight, Healthed hosts a free webcast featuring leading experts on important topics for healthcare professionals. Register for the upcoming webcast by clicking the button below.