Going Viral: Episode 177
Description
Going Viral: Omicron – fact vs spin
In this episode:
– The government and the media have propelled anti-scientific disinformation into the mainstream
– We are seeing very significant post-COVID sequelae including diabetes & neurocognitive issues and more are emerging
– Omicron infection is less protective than the booster
– COVID has generated a major variant every six months for the past two years… more are likely to emerge so we are unlikely to be near the end
– Omicron is as deadly as the original COVID variant… it's not just a bad flu

Host: Dr David Lim, GP and Medical Educator
Total time: 49 mins
Guest: Prof Raina MacIntyre, Infectious Disease Physician; Professor of Global Biosecurity, NHMRC Principal Research Fellow, Head, Biosecurity Program, Kirby Institute, UNSW

Recommended Resources:
– Neurological Damage by Coronaviruses: A Catastrophe in the Queue!
– Nervous system involvement after infection with COVID-19 and other coronaviruses
– SARS-CoV-2, an Underestimated Pathogen of the Nervous System
– Neuroinvasion, neurotropic, and neuroinflammatory events of SARS-CoV-2: understanding the neurological manifestations in COVID-19 patients
– SARS-CoV-2 involvement in central nervous system tissue damage
– Fatigue and cognitive impairment in Post-COVID-19 Syndrome: A systematic review and meta-analysis
– Post-infection cognitive impairments in a cohort of elderly patients with COVID-19
– Cognitive impairment and altered cerebral glucose metabolism in the subacute stage of COVID-19
– Risk for Newly Diagnosed Diabetes >30 Days After SARS-CoV-2 Infection Among Persons Aged <18 Years — United States, March 1, 2020–June 28, 2021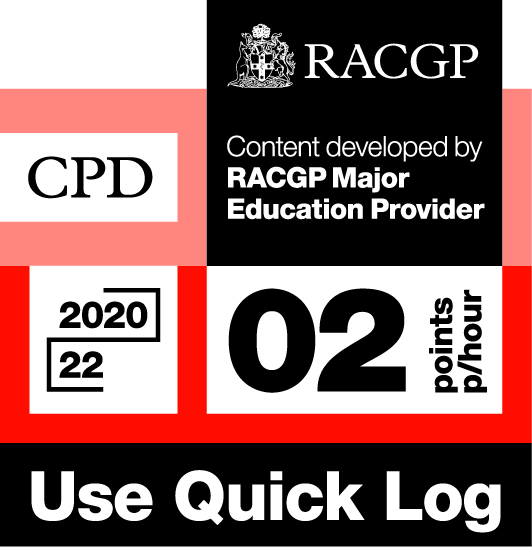 Log your own CPD by following these easy steps:
– Listen to 30 minutes of Healthed podcasts
– Click on the Quick Log logo and follow the link to the RACGP website
– Log in to your myCPD dashboard
– Click on the Quick Log function to log your points
– A 30 minute podcast earns 1 CPD point
Enjoy this content?
Each fortnight, Healthed hosts a free webcast featuring leading experts on important topics for healthcare professionals. Register for the upcoming webcast by clicking the button below.