Viatris – Ferro-grad C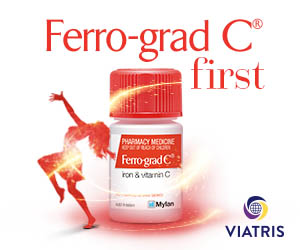 This page contains a range of information and resources about iron deficiency and iron supplementation.


Featured Podcast – Iron Supplement Troubleshooter
In this Healthed lecture, Dr Eslick, Specialist Haematologist and Obstetric Physician; National Capital Medical Specialists at the National Capital Private Hospital, Canberra, describes how the significance of iron deficiency is often not appreciated by patients which is why a dietary approach is frequently unsuccessful. She also outlines the recommended therapies for treating iron deficiency and the importance of close follow-up to check not only compliance but also effectiveness.
Monograph – Iron Deficiency: Translating New Evidence into Practice

This article discusses the importance, particularly in high risk groups, of the identification and correct management of iron deficiency. Written by Dr Sandra Minck MBBS FRACGP, Dr Pradeep Jayasuriya MBBS, Dr Michael Leahy MBChB FRACP FRCP (London) FRCPath and Trudi Gallagher RN
Relevant Podcasts

Preconception, Pregnancy and Postnatal Iron Deficiency – Why Earlier Detection and Management is Important
Dr Renee Eslick, Haematologist and Obstetric Physician; Director of Physician Education, Liverpool Hospital

Iron Deficiency in Teenage Girls
Dr Lisa Clarke, Haematologist; Sydney Adventist Hospital and Prince of Wales Private Hospital; Transfusion Medicine Specialist, Australian Red Cross Lifeblood

Iron Deficiency and Its Management – Getting Oral Therapy Right
Dr Pradeep Jayasuriya, General Practitioner; Belgravia Medical Centre, Perth

Iron Deficiency – Curly Cases, Grey Areas, Controversies
Dr Pradeep Jayasuriya, General Practitioner; Belgravia Medical Centre, Perth

Iron Deficiency
Dr Lisa Clarke, Haematologist; Sydney Adventist Hospital and Prince of Wales Private Hospital; Transfusion Medicine Specialist, Australian Red Cross Lifeblood
Video Interviews
View the series from Dr Pradeep Jayasuriya (General Practitioner; Belgravia Medical Centre, Perth) on iron deficiency:
Additional Resources
See below additional relevant resources:
– BloodSafe eLearning Australia – IV Iron Tools
– BloodSafe Resource Centre