Women's & Children's Health Update 2024
Held across five capital cities, this one-day program brings together the brightest minds in women's & children's health to discuss a variety of topics, giving you the latest information and practical take home messages.
The countdown is on for Australia's most popular one-day seminar for GPs
Topics for this year include

Contraception
Your questions answered - Oral contraception update and IUD's

Hormones
Managing menopause: Practical insights from an expert panel; Hormone-related thrombosis

Pregnancy & Fertility
Iron and pregnancy; Recurrent miscarriage and preterm labour; Thyroid disease in pregnancy; Reproductive carrier screening

Miscellaneous
Demystifying milks; Prioritising dementia risk reduction for women; Anapen & EpiPen practical demonstration

Infectious Disease
Influenza in infants and pregnant women; An up-to-the-minute COVID update

Children & Young People
Eating disorders in young people; Pelvic pain in teenagers - A practical guide for general practice

Register now for a seminar near you
Select the city you would like to attend and follow the prompts to secure your seat
International Convention Centre Sydney
Brisbane Convention & Exhibition Centre
Perth Convention & Exhibition Centre
Melbourne Convention & Exhibition Centre
Adelaide Convention Centre
Speakers from the circuit
A multi-disciplinary faculty of leading independent experts provide practical insights

Sexual Health Physician; Conjoint Senior Lecturer, School of Women's and Children's Health, UNSW

Sexual Health Physician; Professor of Practice, The Daffodil Centre, Faculty of Medicine and Health, The University of Sydney

Obstetrician and Gynaecologist; Clinical Professor, Obstetrics, Gynaecology and Neonatology,

Registered Nurse; CEO of Allergy & Anaphylaxis Australia; Associate member of the Australasian Society of Clinical Immunology and Allergy
PLUS many other highly engaging leading experts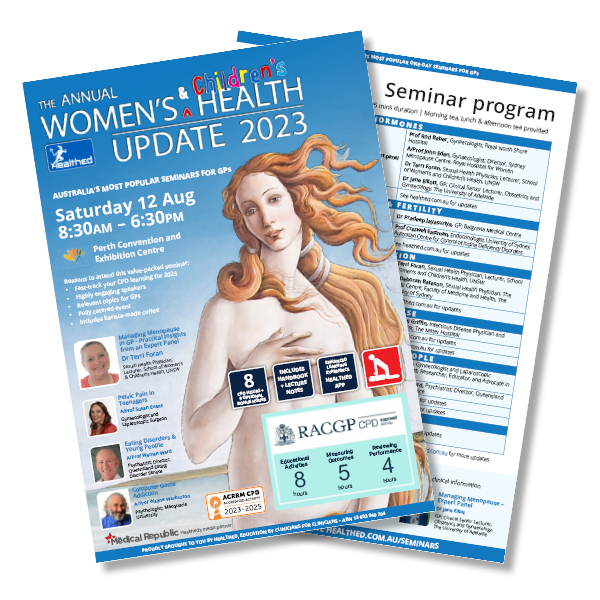 View the seminar brochure
Information for the upcoming Brisbane Women's & Children's Health Update can be found in the seminar brochure.
Gain up to 17 hours of CPD

- When you attend
The Annual Women's & Children's Health Update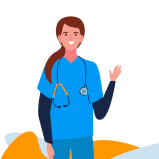 +8 hours
Attend the seminar and we'll manage the addition of eight hours CPD in the Educational Activities (EA) category
+4 hours
Complete the optional quizzes for an additional four hours CPD in the Reviewing Performance (RP) category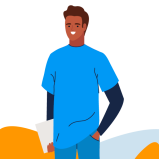 +5 hours
Undertake the accompanying online module for an additional five hours in the Measuring Outcomes (MO) category
Your registration includes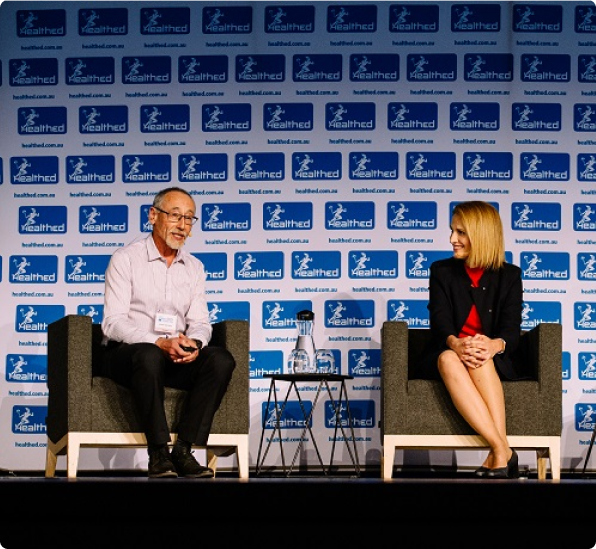 Register now for the Women's & Children's Health Update
Don't just take our word for it!
What your colleagues said about the seminar in 2023
It's a great way of accessing up-to-date relevant guidelines, expert speakers, and a good networking opportunity.
General Practitioner
Good value for money, topics entirely relevant to general practice. Useful resources in trade hall and the food generally healthy, which is nice!
General Practitioner
Visual learning. Many different topics with relevance to practice. Excellent speakers. Research based evidence supporting presentations. Wonderful day, thank you so much.
Nurse
Always an amazing, informative day with great speakers. Amazing presenters on fascinating topics. Thanks again, Healthed.
General Practitioner
Great update on multiple areas with excellent speakers and notes. At cutting edge of their fields so speakers really valued expertise. Speakers were also respectful of GPs, which was appreciated.
General Practitioner
Frequently asked questions
Everything you need to know about the event and more.
What can I expect from a Healthed event?
Healthed face-to-face events are one-day seminars designed with the busy healthcare professional in mind. They offer a full day of continuing professional development (CPD). You can expect high quality education delivered in a single plenary as either lectures, panels or interviews. It is a fully catered event which includes morning tea and free barista-made coffee available from 7.30am, lunch, and afternoon tea. The friendly Healthed team will be there to make your day easy. You can use the Healthed app to accompany your learning, or make use of the physical handbook provided to you. 
How do I earn CPD from a Healthed seminar?
Healthed seminars offer attendees eight hours of CPD in the Educational Activities (EA) category. Simply by attending the seminar you will earn CPD.
Delegates can earn further CPD in the Reviewing Performance (RP) category by doing the post event quiz, and also Measuring Outcomes (MO) category by completing additional educational exercises attached to the seminar. See the specific seminar page for further details. 
How and when do I get my CPD?
Healthed will process CPD hours for members of the RACGP and ACRRM. Please allow approximately four weeks from the time of the event for the successful processing of your CPD. Your statement of attendance will be emailed to you. For other healthcare professionals, you can self-claim CPD for this event using the statement of attendance provided. 
Once you're ready to register you can click through above on one of the orange buttons, and you'll be taken to the registration page which is securely hosted with EventsAir.
Why should I attend a Healthed seminar?
Healthed pride ourselves on prioritising the educational needs of general practitioners. Healthed was established and is led by a team of GPs and other clinicians. We have over 23 years of experience delivering high-quality events for healthcare professionals like yourself. With every Healthed face to face event you can expect:
→ Earn CPD in all three categories
→ Cost-efficient education
→ Clinical information relevant to your practice
→ A highly curated program of topics and engaging speakers
→ A well-organised event that keeps to time
How can I access discounted pricing?
We always aim to keep our events affordable for GPs and healthcare professionals, however the sooner you register for a Healthed seminar the better pricing you'll have access to! For the latest offers see the individual seminar page.
Are these seminars right for me?
Healthed seminars are primarily designed for general practitioners (GPs), however we receive extremely positive feedback from nurses, pharmacists and other health professionals that attend. 
What if I have dietary requirements?
When you register for an event we'll ask for your dietary requirements. Please note that vegetarian options are already catered for.
Are the seminars catered?
Yes, Healthed events are fully catered from 7.45am, offering morning tea, lunch and afternoon tea, as well as barista-made coffee.
Tell me about Healthed Australia
For over 20 years Healthed Australia has provided professional development opportunities for medical practitioners across the country. Our experienced team ensure that we consistently deliver Australia's most popular seminars and learning resources for GPs. The Healthed Australia website has an extensive number of resources available for medical practitioners including podcasts, webcasts, clinical articles and newsletters.
Where can I see the full terms & conditions?
Still have questions?
Can't find the answer you're looking for? Please chat to our friendly team.