The Clinical Takeaway: Diabetic Eye Disease and GPs
Description
In this episode:
– GPs should write a referral to optometrists to state clearly what the appointment is for
– We are to educate patients re the link between diabetes and eye disease and the need for regular screening
– It is important to adopt the risk-based approach and manage identified risks supporting the patients along their treatment journey via a team-based approach
Host: Dr David Lim, GP and Medical Educator
Total time: 38 mins
Guest: A/Prof Peter van Wijngaarden, Ophthalmologist

Eye Health CPD for GPs:
Macular Disease Foundation Australia (MDFA) has launched two free CPD courses to help General Practitioners reduce the incidence and impact of macular disease – Australia's leading cause of severe vision loss and blindness.
Funded by the Federal Government and developed by a consortium of partners, including RANZCO with support from RACGP, ACRRM and world-renowned retinal specialists, each course is a CPD activity under the RACGP CPD Program and has been approved for three CPD points.
Available through the MDFA website, the courses cover age-related macular degeneration and diabetic eye disease each accredited for three CPD points.
Eye Health CPD for GPs:
• Increase your knowledge of macular disease to enable early diagnosis and interventions
• Improve communication with patients about managing modifiable risk, including regular eye exams
• Adopt up-to-date, evidence-based best practice
• Understand how to link patients with supports and services
Access now
Recommended resources:
– Age-related macular degeneration CPD course
– Diabetic eye disease CPD course
– Sign up to Macula Matters, MDFA's macular disease update for eye health professionals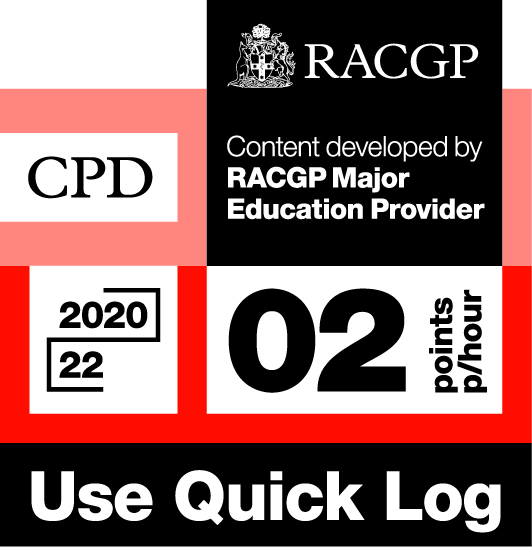 Log your own CPD by following these easy steps:
– Listen to 30 minutes of Healthed podcasts
– Click on the Quick Log logo and follow the link to the RACGP website
– Log in to your myCPD dashboard
– Click on the Quick Log function to log your points
– A 30 minute podcast earns 1 CPD point
Enjoy this content?
Each fortnight, Healthed hosts a free webcast featuring leading experts on important topics for healthcare professionals. Register for the upcoming webcast by clicking the button below.
Register for the free webcast