Women's and Children's Health Update: Pelvic Pain and Endometriosis – Primary care-led Management: Part 2
Description
In this episode:
 
– Recognising the 'red-flags' in the history of dysmenorrhoea in a young woman
– Strategies to manage heavy bleeding and period pain
– The recommended investigations in the management of period pain
– A new school-based initiative aimed at educating young women about period-pain – The Periods, Pain and Endometriosis (PPEPTalk) Schools Program
 
 
Host: Dr Terri Foran, Sexual Health Physician; Conjoint Senior Lecturer, School of Women's and Children's Health, UNSW
Guest: A/Prof Susan Evans, Gynaecologist and Laparoscopic Surgeon; Specialist, Researcher, Educator, and Advocate in Pelvic Pain
Total time: 32 mins
 Listen to Part 1 – Pelvic Pain and Endometriosis – The Big Picture: Part 1
Recommended Resources:
– Pelvic Pain Association of Australia
– The PPEPTalk Program
– Endometriosis And Other Pelvic Pain: A comprehensive guide to all treatment options by Dr Susan Evans – available through Amazon, Booktopia
– Dysmenorrhoea is associated with central changes in otherwise healthy women, Vincent K, et. al.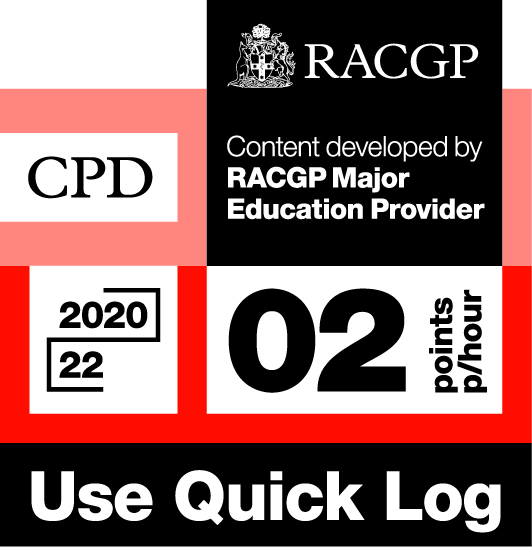 Log your own CPD by following these easy steps:
– Listen to 30 minutes of Healthed podcasts
– Click on the Quick Log logo and follow the link to the RACGP website
– Log in to your myCPD dashboard
– Click on the Quick Log function to log your points
– A 30 minute podcast earns 1 CPD point
Enjoy this content?
Each fortnight, Healthed hosts a free webcast featuring leading experts on important topics for healthcare professionals. Register for the upcoming webcast by clicking the button below.