Women's and Children's Health Update: Children with rare diseases
Description
In this episode:

– The simple things in everyday life which can have profound effects on a child with epidermolysis bullosa
– The impact of rare diseases on the wider family
– How primary care clinicians can become a meaningful part of the specialist care team
Host: Dr Terri Foran, Sexual Health Physician; Conjoint Senior Lecturer, School of Women's and Children's Health, UNSW
Guest: Rebecca Saad, Nurse Educator and Paediatric Clinical Nurse; Epidermolysis Bullosa with Independence Australia
Total time: 20 mins

Recommended Resources:
– Australia first National Strategy Action Plan for Rare diseases, published in 2020 by the Australian Government
– Rare Voices Australia provides details of rare diseases and a comprehensive list of partner organisations that support individual rare diseases
– Debra Australia An EB specific charity that supports people living with EB in Australia
– Debra International (Clinical Practice Guidelines) for Evidence based clinical practice guidelines on EB management.
– Independence Australia – NEBDS site A federally funded scheme that provides wound care products, with a co-payment system for any person living with EB in Australia. Education, wound care services, and clinical support are provided through the NEBDS scheme. There is a list of articles, management plans, and videos located under the Resources tab.
Each state has an EB Specialist hospital, these hospitals are listed on the NEBDS website, these hospitals will often have great fact sheets about the specific disease they treat.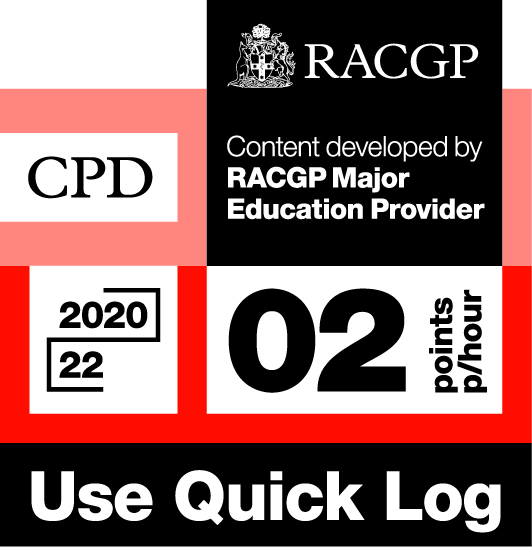 Log your own CPD by following these easy steps:
– Listen to 30 minutes of Healthed podcasts
– Click on the Quick Log logo and follow the link to the RACGP website
– Log in to your myCPD dashboard
– Click on the Quick Log function to log your points
– A 30 minute podcast earns 1 CPD point
Enjoy this content?
Each fortnight, Healthed hosts a free webcast featuring leading experts on important topics for healthcare professionals. Register for the upcoming webcast by clicking the button below.